Sacred Awakening Priestess Leadership Retreat
at the Temple of the Mothers
"During this time of transition upon our Earth, we have the opportunity to restore our hearts and reawaken Love for all of life." ~ Dawn DelVecchio
May 19-24, 2023
Reserve & Luna, New Mexico
Small Group • Personalized Support
Join me at the New Moon in Taurus for 5 days & nights at the Temple of the Mothers, in the mountains of New Mexico this May! We will gather in Sacred Space to deeply restore our own energies, connect with Mother Earth and each other, to raise the planetary vibration for all of life.
In the name of Love we will focus upon healing and restoring our connection with Gaia and our Divine Human Blueprint through …
Sharing & Deep Listening
Forest Walks, Meditations & Nature Attunements
Channeled Transmissions
Ceremony & Devotional Practices
Dance & Celebration
Gaia Gridwork
By Application + Interview Only

This is a small, intimate group retreat with a maximum of 10 women. Our purpose is to gather for deep Priestess work for our own healing, and in service to the collective. It is offered by invitation or application + interview only.
For any sisters not currently or previously mentoring with me, please read through this page in its entirety. If you feel this is a "YES!" then please use the button below to schedule a 30 minute call with me.
Also, if you know a sister who may be a fit for this gathering, you may share this page with her, but please let me know so that I can look for her 30-minute connection call booking.
The exact daily itinerary will emerge based on the Sisters present.
However, the overarching structure will be as follows:
~ Breakfast on Your Own ~
Morning Session
(10am-12noon)
Dance! We begin by getting out of our minds and into our bodies.
Ground, Center & Connect. A Short group meditation & sharing from the heart.
The Day's Teaching.
Sharing, Q&A, nature walks, nature meditations.
Afternoon Session
(2pm-3:30pm)
Dance!
Additional Teaching to deepen into our wisdom and connection to inner guidance.
Sharing, Q&A, nature excursions
Evening
(7:00pm-8:30pm)
Ceremonies, Activations & High Alchemy! Our evening sessions pull together the sharing and the teachings in the ancient way, through ceremonies to EMBODY our insights and intentions through Praxis (Praxis: "the process by which a theory, lesson, or skill is enacted, practiced, embodied, or realized.")
*Please note that there will be plenty of time between sessions for you to integrate, relax, connect with the Earth with the other sisters present!
Please note that a key component of this experience is the restoration of our humanity as natural, connected, social and Divine beings.
You love making deep connections and sharing sacred space with other sisters.
You are comfortable in natural environments and are able to spend time in high desert and alpine country.
You love ceremony and are ready to step into co-creative leadership.
You are willing and able to be open, honest and take ownership of your own needs.
You are willing and able to both receive support and hold space for others.
You are willing to pitch in with meal preparations and clean-up.
We will be spending a LOT of time in nature, both alone and as a group. We will be walking on mostly flat but sometimes hilly landscapes, mostly off-road, and off of any designated trails.
We will also be sharing close space (emotionally and physically), including holding hands, hugging, dancing and sweating in close proximity.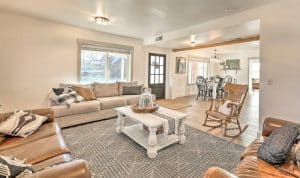 Therefore this retreat is
not

for you if
You are uncomfortable in raw nature.
You are unable to walk for up to an hour outdoors in the sun.
You do not have or cannot acquire practical outdoor walking gear (shoes, layered clothing, sun visor or hat).
You are not comfortable sharing in a personal, honest and vulnerable way.
11 lovingly prepared, bountiful, vegetarian lunches and dinners which we will take turns preparing with each other.
Healthy snacks, fruit, coffee & herbal teas available throughout the days
13 sessions facilitated by Dawn
5 nights accommodation in a luxuriously restored, 19th century farmhouse.
3 additional co-created ceremonies
Forest attunements, meditations & guided walks
here's what's not included…
Travel to/from Reserve, New Mexico.
Airport transfers from Albuquerque International Sunport.
Transportation or tours around New Mexico.
Any additional meals or snacks not mentioned above.
Early Bird Special!
Save $100 when you register before January 21st, 2023
$1577.00

$1477.00
(until 1/21/23)
A deposit of $350 secures your spot.
Balance can be paid in up to 3 payments.
Payment Terms: All deposits are non-refundable. Full balance is due by April 30, 2023. Cancellation fees apply to payment beyond the deposit.
"When I think about the powerful women who have blessed my life, Dawn is at the top of the list. During a time when we worked together for the same company, Dawn quickly became the unofficial mentor to many of us, as her compassionate nature, paired with her wisdom and broad spectrum of esoteric knowledge, is unparalleled.
I'm extremely grateful to have Dawn in my life and I know it is time for her to share her gifts with women around the world."
Our Location
Our location is a beautifully restored farmhouse as well as my personal home & Temple space amidst the vast, Gila National Forest of Southwest New Mexico. We are at 6,000 ft. elevation with a warm-to-hot, sunny and dry climate.
Our gathering places include: the forest itself, outdoors on my personal property with shaded areas for meals, an outdoor ceremonial space and fire circle, the living and dining spaces at the Farmhouse, and my 16' hand-made, Mongolian Yurt, the "Temple of the Mothers."
The Temple itself is an eco-friendly sanctuary for meditative, quiet & environmentally honoring gatherings.
Arrival & Departure
Please aim to arrive between 4-5pm on the 19th. Our Opening Ceremony begins at 5:30pm, followed by dinner.
Our Closing Ceremony will be co-created and held on the evening of May 23rd, 2023.
NOTE: If you would like to arrange a 1:1 VIP add-on with me, please let me know. It would be a joy to go deeper with you through an astrological deep-dive, customized ceremonial work and more of this beautiful forest!
Are You Ready?

If you've read through this in its entirety and you feel this is a "YES!"
Then please click the button below to schedule a 30 minute call with me.
"You will always be the one in my life who taught me tarot and initiated me into the lexicon of the goddess … you had a great way of addressing things so directly and bluntly and yet with compassion … those times set a solid foundation for my spirituality."
"Dawn has a technique of listening to others interests, then pulling out certain details from what she hears, building upon them with her own knowledge and experience, providing information that creates a ! and ? to go off in their head, helping them to realize these may be passions that need to be explored."
"Dawn has a very thorough and accurate approach of going through the individual steps of an intervention and gave me great space and support to walk through it in my own time. I felt much relief after our session and experience more ease in my life now when it comes to structuring my work load and balancing myself. Thank you Dawn for your outstanding guidance!"
"You inspired me to be a strong woman, to be feminine yet fierce. I always admired that you were both physical and very knowledgeable … I always left your class feeling inspired to be a better person."
Listen to other women's experience of being on retreat with Dawn…
Priestess
I have been studying Goddess lore, facilitating ceremony, offering intuitive guidance, spiritual counsel, tarot & astrology readings for 35 years. My Initiation as a Priestess was in 1986 with my first Dianic Coven, Mother Spirit. My second initiation – or RE-Dedication – came in January, 2017 when I could no longer ignore my truth and my Sacred Calling as a Mentor and Guide for the next generation of feminine leaders.
I am also an Ordained Priestess of the Goddess with the Global Goddess Church and Ordained Minister with the Universal Life Church.
My "Official" Cred
I hold a Bachelor's Degree in Women's Studies and Feminist Literary Criticism, and a Master's Degree in Shamanic Intuitional Practices. I'm also a professionally certified Neurolinguistic Life Coach, Clinical Hypnotherapist, DreamSculpting® Practitioner and Timeline Trauma Release Coach.
If you know me personally, you also know that I have been a business mentor & marketing consultant for 10 years, a professional writer for more than 18 years, and am the #1 Amazon Best-Selling Author of the book, Spirit, Mind & Money.
How I Work with Women
Today I bring all of these transformational tools together in order to assist women in healing, clearing and actualising their Sacred Leadership potential. I do this through retreats, online group mentorship and 1:1 coaching.
© 2023Dawn DelVecchio. All rights reserved.